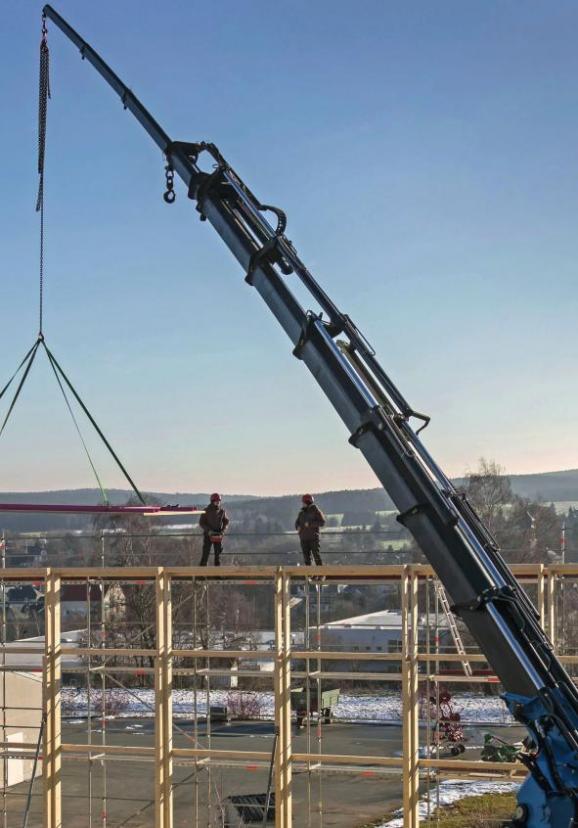 There are many factors that speak in favour of timber frame construction, but the overriding factor is the material itself. Wood is a renewable and recyclable raw material, which is why it works as a long-term CO2 storage medium and ensures a positive carbon footprint. "Especially when compared with other construction methods with concrete, steel or bricks – wood, as a naturally occurring substance, has an extremely low primary energy requirement as hardly any additional energy is expended in its production", explained Frank Nützel, CEO of NWS Natural Wood Solutions. That is why his company specialises in various indoor and outdoor construction methods with wood and has already realised various projects in cooperation with Pfleiderer.

The most recent joint project is a warehousing and production building in Rehau, Bavaria. With this dry construction method, the building could be erected within a very short time. Relatively simple foundations are sufficient as a substructure for a supporting framework made of wood. The considerable static design values of Pfleiderer LivingBoard P7 enable it to perform a stiffening function that reinforces the spatial and structural stability of the building. "We exclusively used engineered wood boards from the Pfleiderer company for reinforcing the construction in all the wall and roof areas", explained Frank Nützel. Altogether 253 Pfleiderer LivingBoard P7 panels were deployed.

With the Pfleiderer LivingBoard, we have decided here in favour of an especially sustainable and healthy solution made of wood. "These panels are made from low-resin spruce and a formaldehyde-free binding agent and are consequently the ideal choice for healthy wood frame construction. LivingBoard is also extremely efficient at saving resources as sawmill by-products from PEFC™ or FSC®-certified forests are deployed in its production", explained Olaf Heiden, Area Manager for constructive wood-based materials at Pfleiderer.


PRODUCTION BUILDING IN REHAU
32

metres wide


100

metres long


8.50

metres eaves height


253

LivingBoard P7 panels deployed in the large 40 x 6,700 x 2,700 mm format



Pfleiderer LivingBoard P7 is a genuinely strong product, which is suitable for all areas of application where extremely high load values in the humidity range are required. In this case the product was delivered in precise-fitting 6.7 x 2.7 metre large-panel format and, consequently, could be used without any additional time-consuming pre-assembly work. Beyond that, due to their perfect bracing function, relatively few supports were required in the construction process. "It is especially helpful for us that this board ensures high strength values in all panel directions and, consequently, also has consistent static values even when non-directionally used, which means that we can work with it in both longitudinal and transverse directions. That is something that cannot be taken for granted and it considerably simplifies the work and the static planning for us", said Frank Nützel.

NWS Natural Wood Solutions deployed the maximum panel thickness of 40 millimetres for this project. "And there's a good reason for that", said Olaf Heiden. "As the board thickness, and the specially high bulk density that determines the ratio of mass to volume, ensures that the product has a very low burn-down value. This means that it was no problem to be able to achieve the F30 fire resistance rating for this warehousing and production building. And, even if this initially appears to be illogical, in the case of fire, wood is often even more stable than steel. While, although steel is a building material that does not burn, after a time its high heat conductivity means that it loses its static properties and is liable to collapse. Wood on the other hand does not change its molecular structure under fire stress.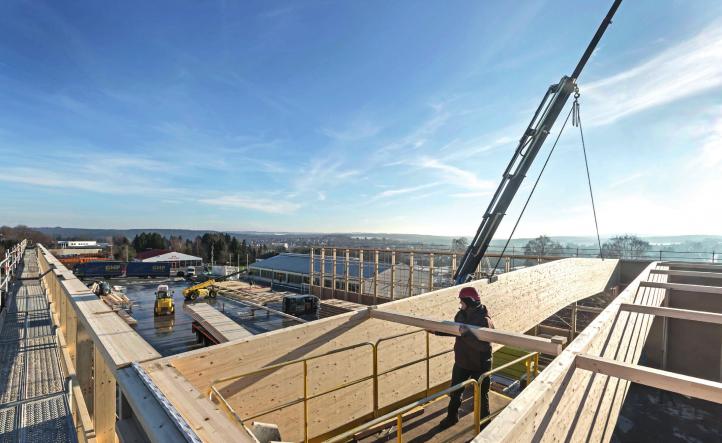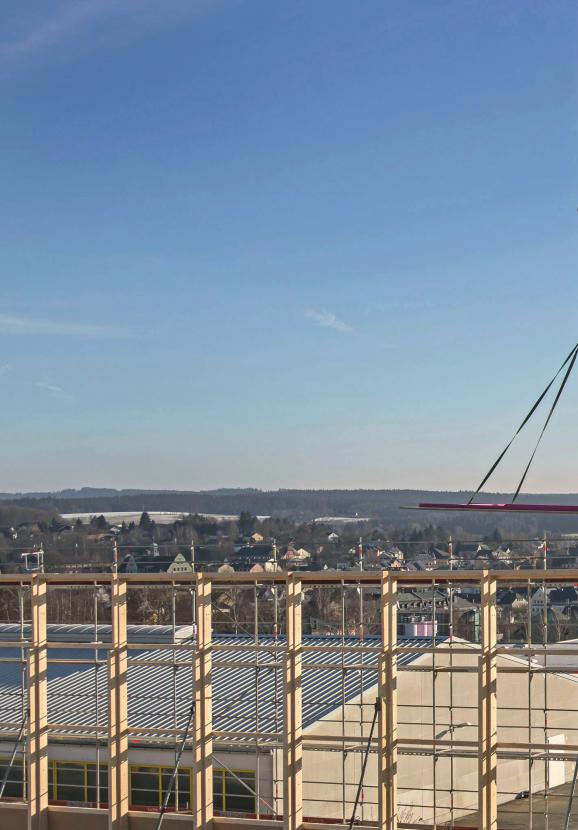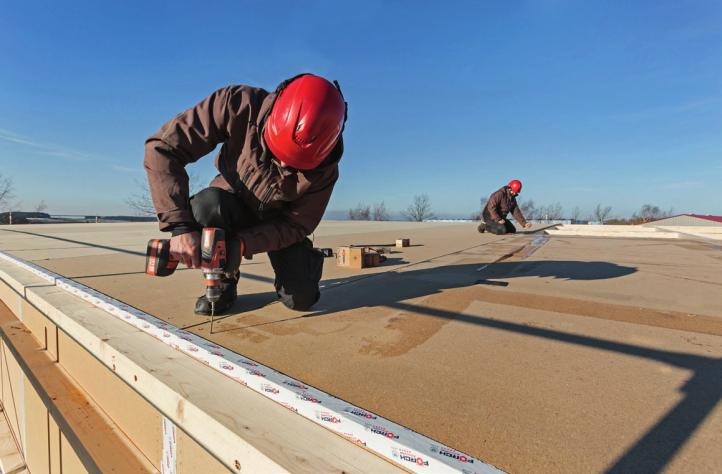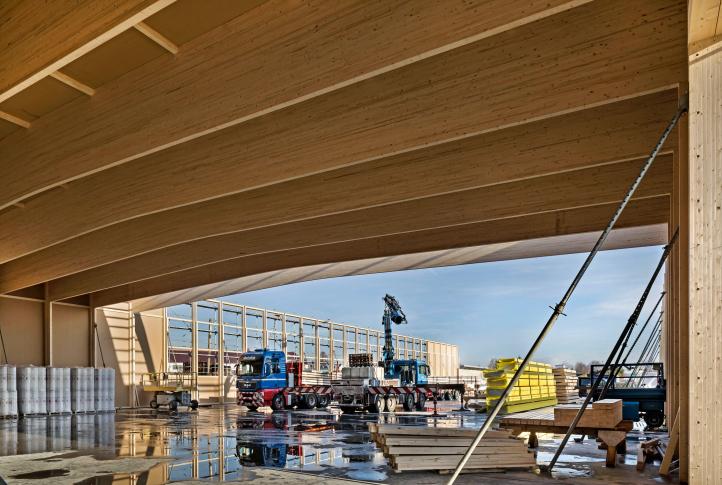 Further constructional requirements such as protection against moisture with low gains in thickness through swelling, airtightness and noise protection are met with LivingBoard P7 in consequence of its high and homogenous bulk density.

"With the limited heat conductivity of wood, we also hardly need to concern ourselves with intrusive thermal bridging. That is what the building surfaces are called that show a particularly low resistance" Without any solid structural components in walls and ceilings that radiate the cold, the building can also be heated cheaply. The energy storage properties of concrete are also specifically harnessed in the building through under floor heating.

Yet, as well as the good physical properties and the sustainable and quick construction method, above all it is the agreeable indoor climate and feel-good factor that wins you over in the NWS Natural Wood Solutions building. Frank Nützel is certain that "No other building material creates such a comfortable, warm and authentic atmosphere as wood. I am very happy that we have chosen an approach with this natural resource and I am looking forward to working with partner companies like Pfleiderer – who value this natural product just as much as we do – again and again."