Among all the visitors, there was tangible excitement about the official launch. "Four months ahead of schedule, the new lacquering plant successfully coated its first panel," COO Dirk Hardow reported during his welcome speech. He thanked the team in Leutkirch for their outstanding performance of having constructed and set up the plant in just twelve months. The market feedback is also very positive, which means that the plant's capacity is now being progressively increased. "We will tap into new markets and impress many of our existing clients with our new products, which will result in stronger ties. All in all, we will set new standards in our sector," CCO Ivo Schintz affirms.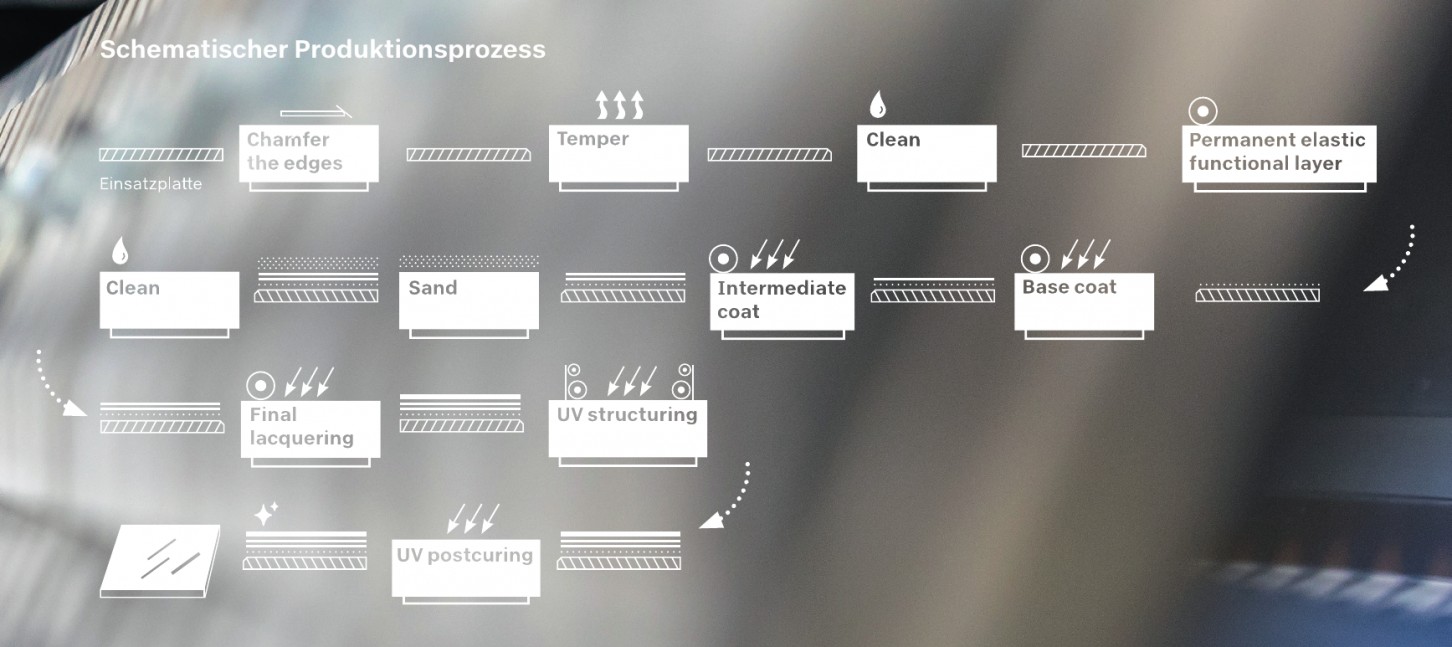 Before visitors even reach the lacquering plant, they come face to face with requirements that they may not expect at a factory for wood-based products. The whole production process operates in cleanroom conditions. "This means that the same climatic conditions must be present all year round and the facility needs to be kept as clean and dust-free as possible" explains Ralf Mendler, who was responsible for the planning and construction of the Pfleiderer plant. Helmets must be worn everywhere in the factory but anyone entering the lacquering facility must also wear protective covers over their shoes. What visitors see next is extremely impressive. The production line, which is almost entirely automated, is 165 m long in total. As such, it is currently the largest hot coating plant in the world. Each of the work areas are monitored electronically and at one end of the plant, all of the key functions are displayed on and controlled via screens.

42 external companies from all over Europe were involved in the construction of the plant, which included building the production facility in Leutkirch. Uli Baur, Production Manager for lacquered elements, was involved right from the start. "The lacquering technology was new to us. First, we needed to familiarise ourselves with it. And because this plant was so complex, there were no examples on which we could base our work. Although many of the components are well-known, the overall construction is unprecedented. We have combined two different production systems, integrating them to create one single process. This was a challenge but, with our project team of eight people, we managed to successfully overcome it." Michael Pohl, Head of HPL and Elements, plans to deploy up to 20 employees for the regular operation of the plant. The makeup of the team is a very important factor here. The team consists of experienced employees and one apprentice, with specialties ranging from wood processing to metalwork. As such, it reflects the extensive range of experience and specialisms available at the Leutkirch site. "We have been interested in this kind of procedure for some time," explains Michael Pohl, "and here in Leutkirch, we have the best conditions – in terms of staff and materials – to achieve these ambitious goals."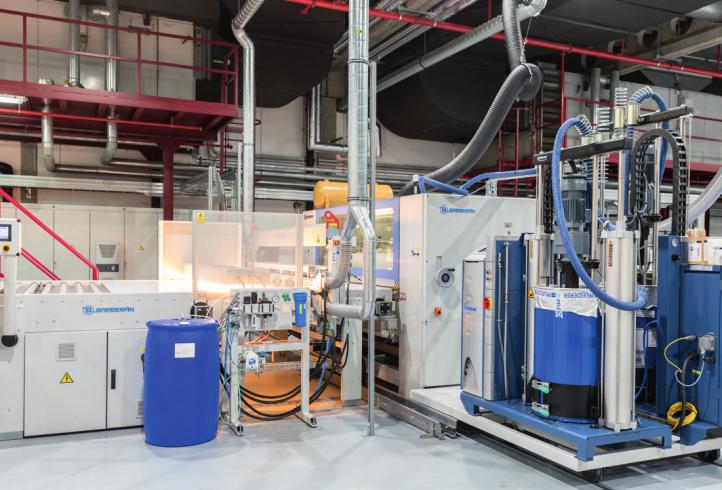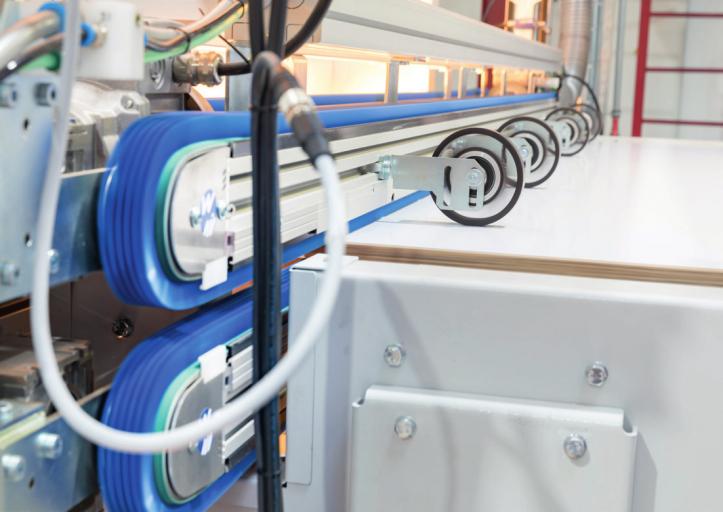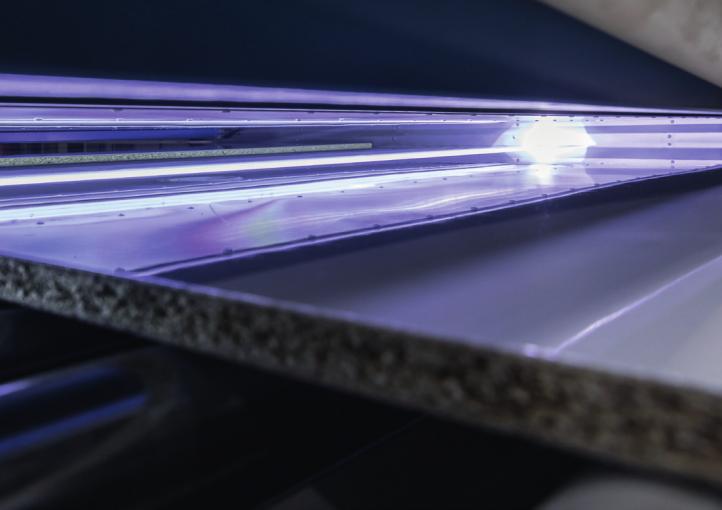 The Leutkirch site produces the high-end lacquered surfaces sold as Pfleiderer PrimeBoard (with super-matte and high-gloss finishes) and Pfleiderer Duropal HPL Compact Exterior (with super-matte and exterior matte finishes), which are offered in combination with DecoBoard and Duropal HPL. Pfleiderer PrimeBoard is available in the dimensions of 2800 mm x 2100 mm. Michael Scheller, Head of Product Management at Pfleiderer, views these lacquered surfaces as a trail-blazing expansion of the Pfleiderer range. "In the area of furnishings and fittings for interiors, PrimeBoard is the perfect complementary product," he explains. "But with Duropal HPL Compact Exterior, we have been able to apply our renowned design expertise in outdoor settings for the first time. With outdoor products ranging from kitchens, furniture and dividing screens right through to facades, we are offering our clients innovative, exciting possibilities that match in the Pfleiderer colour match range."

Duropal HPL Compact Exterior is produced in the waste-efficient size of 2,800 mm x 2,070 mm. The colour fastness of the surfaces has been certified and the Leutkirch plant can also lacquer panels on both sides. UV-hardened, solvent-free acrylic lacquers are used to coat the surfaces. The lacquer cures in an oxygen-free environment, resulting in a particularly scratch-resistant surface. The permanently elastic PUR functional layer, which is permanently flexible, makes the coated panels very durable. As such, they do not chip or rip during the processes of sawing, milling, drilling or edging. Typical premium quality. Typical Pfleiderer.