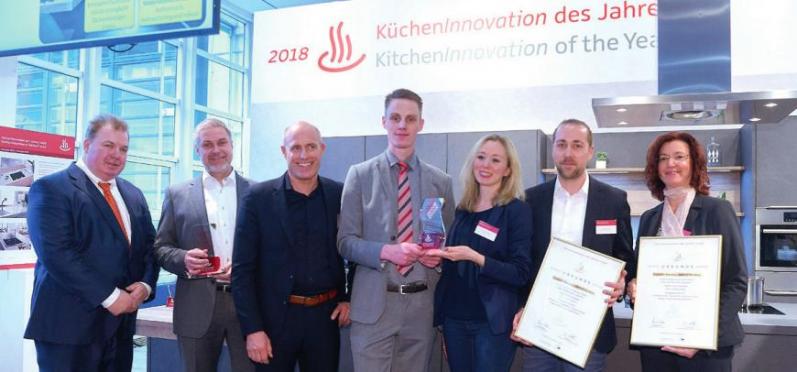 In edition No. 4, 2017 of the Inspirations Magazine we reported on the new Xtra worktop that the nobilia kitchen manufacturer developed together with Pfleiderer. What is so special about this worktop is its flush-mounted installation with an integrated sink and fitted cooker hobs. This Xtra worktop was selected as the 'kitchen innovation of the year® 2018'.

This consumer prize is recognised all over the world and was awarded for the twelfth time by the Initiative LifeCare. A panel of 17 expert judges first narrows down the choice in a two-stage selection process. Then the independent K&A BrandResearch market research institute – with its worldwide reputation for assisting in buying decisions – carries out a survey of consumers throughout Germany.

The prize was awarded in eight categories. As well as first place in the 'kitchen furniture' category, the Xtra worktop was also distinguished with the 'Golden Award' for the best overall assessment. "We are truly delighted with this accolade. It shows us that, as well as appearance and quality, easy handling and special product benefits are important and worthwhile in the overall consideration of an innovative product. Consumers need a solution to a problem that enhances their day-to-day lives", is how Dr Christian Schrautzer, Head of Chemical and Technical Development at Pfleiderer and Frank-Michael Kosli, Area Manager for Industry, explain this – and they were both closely involved in its development.